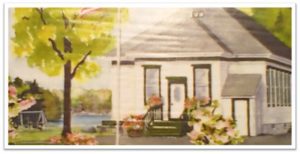 The Franklin Community Center at 34 Main Street has seen many pupils, teachers, municipal officers, and elected officials pass through its front door.
The building was erected in 1909-1910 as a high school for a total cost of $3,075.05. The 'lower part' was added on in 1948 to form the Franklin Consolidated School. The rooms were filled with Butler, Blaisdell, Crabtree, Springer, Tracy, Donnell, DeBeck, Young, Abbott, Bradbury, Bragdon, Gordon, Fernald, Worcester, Smith, and many other Franklin family voices.
The last high school class was 1948 and the last grammar school class was 1989.
By 1993 the building had been renovated into the Franklin Community Center and Town Offices. The old Franklin Grammar School sign was restored and is mounted in the Town Office.
Today the Community Center offers the use of its Meeting Room, the old 1st-4th grade classrooms. Residents may use the room by calling the Town Office – Elaine at 565-3663. The room is used for birthday parties, showers, weddings, and other gatherings. You must leave the room clean (take the trash with you), disinfected, and similar to the way you found it.
During 2020-2021 the Meeting Room was used by many committees and boards that needed to socially distance. The Town Clerk and Selectboard designed a flow for citizens voting that met all mask and socially distancing requirements.
Displayed on the walls of the Meeting Room and the Town Office are old photos of Franklin. The Franklin Historical Society rotates the photos in the Town Office and donated the photos in the Meeting Room.
Franklin Community Center
Meeting Room Guidelines
To reserve the room call the town office at 565-3663. You will need to provide, date and time of event, contact name and phone #, and arrangements for key pick up and return.
Please take a photo of the room set up, so you can return tables and chairs as you found them.
Any food/drink brought into the building by you MUST be removed.
Check bathrooms to be sure they are in the condition you found them.
Sweep floors before you leave.
For any spill clean-ups.  USE COLD WATER ONLY – NO HOT
Remove ALL trash from your event.
Do not open windows from the top.
Do not allow small children to adjust/play with our new shades.
Due to Covid restrictions/cleaning protocol, please use available disinfecting wipes to wipe down tables and chairs used.
Please be sure all doors and windows are closed and locked before you leave the building.
Community Center Trustees
Douglas Bunker, Chair
Beverly Billings
Amy Boyle
Monica Czerniawski
Jennifer Shorey
Mary Townley